From Elementary School Ballroom to Senior II Championship Latin, Team Aria claimed one title after another, causing one audience member to exclaim during an awards ceremony, "Washington again?!" Yes, Washington again, with couples from Pacific Ballroom Dance and Aria Ballroom taking home trophy after trophy. That Aria Ballroom was successful is an understatement. This year, Team Aria went nuclear.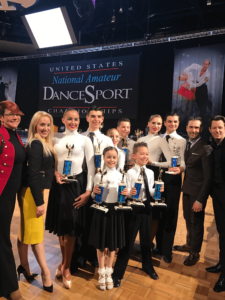 Let's start with our syllabus results. On Thursday, the busiest of our days, we had three syllabus events with four couples participating. In the Elementary School Standard, Kai Matthews and Vlada Denysovets danced four rounds, having been called back round after round until the competition was whittled down to just six finalists from almost 50 couples! Kai and Vlada danced consistently in each round, proudly displaying an exemplary frame that many open level couples would be jealous of. When it came down to it, their beautiful frame and perfect execution left no doubt in the judges' minds. Kai and Vlada were awarded first place, winning both dances outright. Of course, their work wasn't done yet. They were given a break of a couple of hours, then they had to do it all over again, this time in the Elementary School Latin. Once again, although starting with close to 50 couples, Kai and Vlada managed to make it through to the final six; their impeccable timing and adorable charisma once more won the judges hearts, and they were awarded first place in the Latin, winning both dances.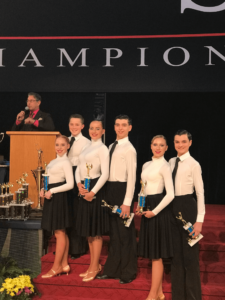 Also on Thursday was the High School Standard. In this event we had three couples competing: returning champions (with different partners) Benson Maier and Lora Tseytlin, Tanner Choudhry and Amanda Manea, and first time participants Hunter Choudhry and Anna Sievers. These three couples were
competing in the most highly contested event, with over 110 couples! When it came down to it, all three couples made the final six, with Team Aria grabbing half the final! As if that wasn't enough, the other couples were simply not to par with Team Aria. The three couples nabbed 1st, 2nd, and 3rd, leaving the rest of t
he country in their dust. Benson and Lora placed first, winning both dances and standing out so much so that one judge confessed, "They were my winners from the first round." Tanner and Amanda, who had danced for the first time at National Championships in 2016 and had made the top 24, were ecstatic to have placed second. But the real standout couple was Hunter and Anna, who were competing at National Championships for the very first time. This couple are still training in Bronze level, yet their ability to hold their frame and dance their routines consistently and on time from round to round made them clear finalists.
On Friday we had four couples competing in the High School Syllabus Latin: Benson and Lora, Tanner and Amanda, Hunter and Anna, and Nathan Chen with Ruhi Pudipeddi. This was Nathan's third National Championships, having made the High School Standard final in 2016 with his sister, Christine, but it was the first time attending for Ruhi. Again, there were over 100 couples, with Tanner and Amanda making the top 24 while Hunter and Anna made the top 12. Amongst the top six finalists, however, were Nathan and Ruhi and Benson and Lora. Once again, Team Aria managed to grab two podium slots, with Nathan and Ruhi placing third and Benson and Lora, with their beautiful leg and hip action, their clear timing, and their standout frame, taking home the first place trophies by winning both dances. In the picture to the left, you'll see that Benson is missing. That's because he wasn't done yet! He was also entered to dance the Junior High School Standard with his sister, Lucy, which literally started the moment the awards for the High School Latin finished. It was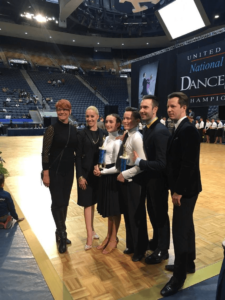 another six rounds for Benson and Lucy, but once again their quality stood out. Chosen as the winners from the first round by many judges, they were able to perform their routines beautifully and consistently despite Benson's exhaustion. From a competition starting with over 90 couples, Benson and Lucy grabbed the first place trophy while winning both dances in the process.
Benson and Lucy were the only couple competing in the Junior High School Latin on Saturday, but once more stood out with their beautiful frame, clear timing, and Lucy's soft arm action. From over 80 couples, they made the top six finalists and, winning both dances, took home the first place trophy. Not only did Team Aria win all six syllabus events, they also won all twelve dances! Our champions did not drop a dance! "It's obvious who your couples are," admitted judge Daniele Gozzi. "We can pick them out from the first round."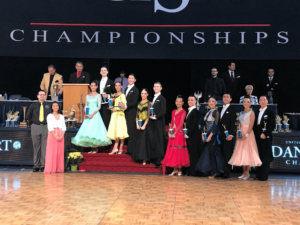 It was a tougher comp for our open level competitors, who have only been competing in the open level categories for a year, but this did not stop them from showing the strength of Team Aria. Miles Wu and Rachel Ma competed in the Youth Pre-Championship and Youth Pre-Championship Standard, making the top 12 couples in both events out of almost 100 couples. Miles and Rachel also competed in the Youth Championship Latin and managed to make the top 24 in this strong event. Anton Tseytlin and Jessica Petrochuk competed in the Youth Pre-Championship Latin as well, making the top 24, but they really stood out in the Adult Novice Standard, where they were joined by fellow Standard competitors Nathan Chen and Maria Bakhmetyeva. Once again competing against nearly 100 couples, Anton and Jessica and Nathan Maria made it to the top six and grabbed two more podium spots, with Nathan and Maria finishing 2nd and Anton and Jessica finishing 3rd. The next day, Anton and Jessica also competed in the Adult Pre-Championship Standard and managed to make the top six finalists out of more than 80 couples. No podium spot for them this year, but they finished 6th and were ecstatic to have made the final after only one year competing at the Open Level. They have their eyes set on that first place trophy, so we will see what 2018 will bring.
Last but not least were our senior competitors, Edward Brennan and Cecilia Wang, as well as Gokturk and Asli Yurtyapan. Edward and Cecilia danced very well and managed to grab a podium spot in the Senior III Latin, placing 3rd! Gokturk and Asli, Team Aria's Senior 10-Dance couple, represented Team Aria beautifully in the Senior I and Senior II Championship events, taking home the gold trophies for Senior I Latin, Senior II Latin and Senior II Standard.
This year, with 9 gold medals and 15 podium spots, Aria Ballroom competitors are bringing their dancing out in force and showing the country how strong Washington really is. We are so proud of all of our competitors and we are looking forward to the achievements next year will bring! Congratulations, everyone!